The Brady football team will have a little pep in their step heading into Homecoming week. They met the Maywood/Hayes Center Wolves at Maywood last Thursday, and dominated the game from start to finish. Coach Seamann was definitely pleased with his team's efforts.
"Our game plan each week is to establish the run, and this week we worked hard on cleaning up our communication up front and being aggressive with getting on our blocks and finishing them. We had three 100-yard rushers, which I believe is the first time for that since I have been here.  And a lot of that can be attributed to our offensive line making some much needed improvement."
Jeremy Larson led this week with 162 yards rushing, followed by Logan Simmons with 137. Freshman Rylie Shirk stepped up for his biggest contribution to date, totaling 100 yards.
The Eagles spent most of their time running the ball, racking up 470 yards. Just two passes were attempted by Most, with one completed for 13 yards. Penalties still give the line some trouble, according to Seamann. "Our biggest challenge has still been penalties, especially the unforced penalties like false starts and jumping offsides. We need to clean that up, we can't continue to give our opponents five yards without having to earn it."
Still, Brady managed to contain MHC handily, holding them to just two touchdowns in the first half. In contrast, the Eagles were a force to be reckoned with, their opening drive netting them six points thanks to Simmons. Simmons, Larson, and Most added five more touchdowns, one 2-pt conversion, and Tayvier Mitchell had one PAT before the half.
The third quarter showed a little more fight, and Larson finished just one drive in the end zone, then received a pass from Most for the 2-pt conversion. No such luck for the Wolves, ending the third 47-12, Eagles. The Eagles stepped it up in the fourth with two more rushing touchdowns, followed by one PAT. The Wolves snuck in just one touchdown for the half, ending the game with a score of 60-18, Eagles.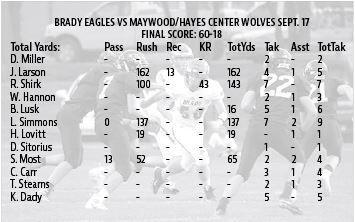 Coach Seamann gave a nod to a lineman this week as our stand-out player. "Kaden Dady had a dominating game upfront. He missed the Garden County game with an ankle injury.  He did everything he needed to do to get his ankle as healthy as possible, and had the kind of dominating game that we expect from him." In addition to helping open up holes for the run game, Dady contributed five tackles, one sack for a 6-yard loss, and three hurries.
The Eagles are gearing up for Homecoming this week, facing the Axtell Wildcats on Sept. 25, with kickoff at 7 p.m.