It was the turn of the 20th century, 1901, and the town of Gothenburg was only a few years old - but it was thriving. Perhaps to the surprise of a young man named John H. Norsworthy.
The Norsworthy family settled in Dawson County in the mid 1800s and lived about 25 miles from Plum Creek, now the city of Lexington. J.H. loved to write and kept meticulous journals throughout the years, later recounting some of his early memories of this area.
"We were greatly surprised when we heard they were going to start a town where Gothenburg now stands," J.H. Norsworthy later wrote. "We had Willow Island and Cozad, which we thought sufficient, especially so as the new town would be at the point of the sandhills, which in those days we considered to be absolutely worthless."
He recalled that the original town contained eight blocks all located on the north side of the railroad tracks. The original buildings were on Front Street, facing the railroad. The first hotel to be built was called the American House, though it wasn't there long.
J.H. recounted the story of a real estate agent named Bouton who had an office located east of the hotel. One cold morning Mr. Bouton apparently built a fire in the heating stove before going to the hotel for breakfast. The stove ended up setting fire to the building and the entire corner of the block was destroyed.
In 1907 J.H. began building a flour, feed and seed store on the site of the former hotel. He was the first homesteader to locate in the German precinct north of Gothenburg. The building process back then took about a year, and Norsworthy Feed officially opened in 1908.
J.H. had two sons who followed in his footsteps in the feed and seed store business: Bernard and Roscoe. Bernard took over the operation of the store in the mid 1940s during World War II. He had served as a Lt. Colonel in the Army and was a very tall and stately man.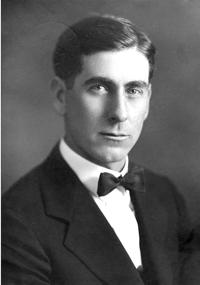 WM-6 PP Bernard Norsworthy - BW.jpg
There are certain things that seem to stick with us for a lifetime, often invoking floods of memories - sounds, smells and experiences. Julie Scott is the granddaughter of Bernard Norsworthy, and she can recall her childhood days in the feed story as if it was yesterday.
"Bernard was a pretty tough guy and he ruled over everybody. But he was a very sharp individual," she shared.
In 1954 Bernard's son, Wynn took over running the store after returning from the service. Working alongside Wynn for many years was his uncle Roscoe. Rossy, as he was known by most, was well-liked and Julie describes him as a "great guy." He devoted his life, quite literally, to the family business.
When Julie married Leroy Scott in 1978, he also joined the company at Norsworthy Feed. He said he thoroughly enjoyed his years there, and vividly remembers his last day of working with Rossy. "We were getting ready for lunch and ole Rossy said he was gonna go sit in the chair for a bit. A little while later he was still sitting in there and hadn't stirred so I thought I better go get him up. I went in and took a hold of his arm to wake him and he was ice cold," Leroy recounted. "He died right there in the chair in the store."
Wynn put up a new building in 1985 and continued to operate the feed and seed store his grandfather had started until he retired and sold the business to Laird Feed in 2007. Leroy spent 20 years working at the store with his father-in-law and loves reminiscing and sharing stories about those days.
"The feed store was known for its pitch games - and boy they had fun," Julie laughed.
Leroy has many memories of the daily card games at the store, but one in particular stands out. "I remember one winter they closed the interstate down because it was snowing and blowing so bad. This Jolly Rancher truck got stuck in town and the driver ended up coming over to the store and joining in the pitch game. Next thing you know he was bringing over boxes and boxes of Jolly Ranchers for us. He said he never had so much fun in his life getting snowed in," Leroy laughed.
Those days of relaxed card playing were much different than the early days when J.H. was battling the harshness of nature and new development to establish his business. He wrote about the Union Pacific depot which was just south of the post office, with the stockyards across the street to the east.
"The stockyards were moved farther east to make room for a flour mill, which W.D. Griffin erected. Mr. Griffin bought a mill at Osceola. Previous to this, we used to go to Arnold or Gibbon to mill.
"Our principal market for produce was North Platte," J.H. continued. "I remember hauling a load of potatoes to the Platte in winter, in grain sacks. I stopped overnight at Dolan's section house at Maxwell - then called McPherson - and had to carry the potatoes into the kitchen to keep them from freezing. Everybody kept open house for travelers in those days. We were all neighbors in the early days."
In those days you had to be tough to survive. J.H. was, and raised Bernard the same way. However, Julie admits that Wynn is much more laid back than his father and grandfather were. His twin brother, Milt, has always been a pretty serious guy too, said Julie. Milt lives in Van Nuys, California and worked as a rocket scientist for Aerospace Industries all his adult life.
"I always felt like I got the fun dad, and I was glad about that," Julie said with a smile. It's hard to say what J.H. would have thought of the Jolly Rancher pitch tournament in his store, but Julie said with Wynn at the helm "there was never a dull moment at the feed store."