Jim Graff is someone who has always enjoyed being involved - whether it was school, work or community, he's not one to just sit on the sidelines. Growing up in Alliance, where his dad worked for Burlington Northern Railroad, Graff found his niche in fine arts in high school.
"I was involved in all the music classes, including band which I was president for my senior year, choir, jazz band and swing choir," Graff recalls of his years at Alliance High School. He was also very involved in DeMolay, an international fraternal organization for young men ages 12 to 21, and was Treasurer his freshman year, Master Councilor (president) his junior year, and Chaplin his senior year.
After high school, Graff attended UNL and received his Bachelor of Science in Biology in 1991, and his Doctor of Dental Science from the University of Nebraska Medical Center College of Dentistry in Lincoln in 1995.
"I went to College undeclared, but knew I wanted to do something in medicine, maybe pharmacy or veterinarian," said Graff. "I had the opportunity to visit the dental college as a sophomore and thought it looked pretty cool and interesting. I thought 'I could do that', so I became involved in the pre-dental club and made it happen."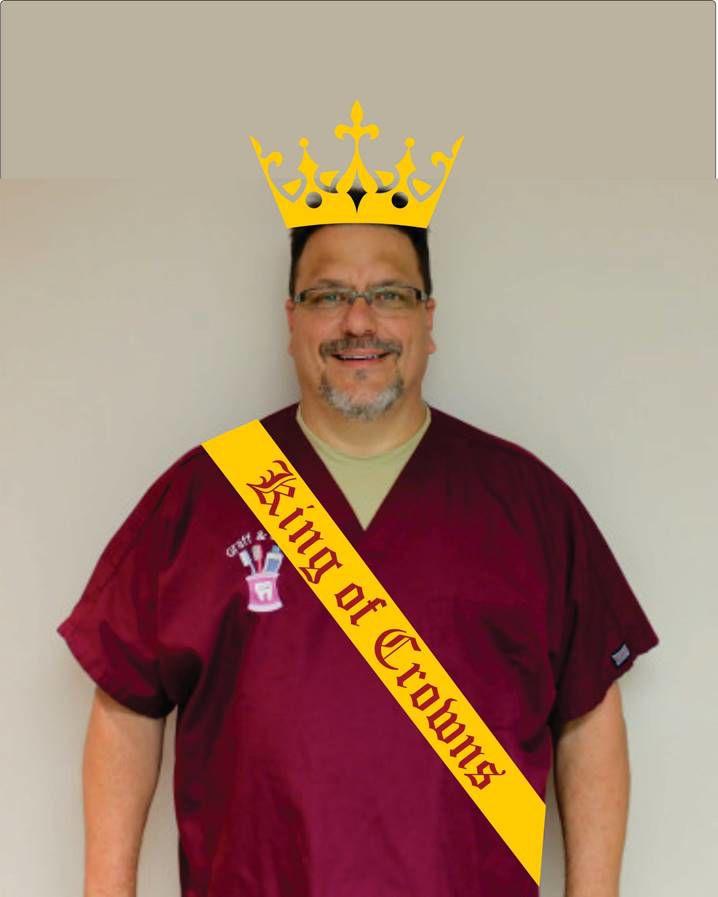 While attending UNL, he met Kim - now his wife - in the marching band during his junior year. "We were on a band trip to an Iowa State away game and my friend kicked her in the butt with my foot. We thought she was a flag girl," Graff recalled with a laugh. "I played Baritone and she played Tenor Sax. We dated for a while but knew we would get married after dating only a few months. We had the same morals and goals from the beginning." They were married in July 1992.
After graduating from dental school, Graff had the opportunity to participate in the Rural Practice Management Internship which paired first year dentists with a mentor dentist in a rural location. "I spent my first year as a dentist with a dentist in North Platte learning how the real world works and building speed and confidence," he explained. "After that I had the opportunity to practice with a local dentist in Gothenburg, I spent a year as an associate and seven more as a partner. Kim and I discovered that we loved Gothenburg and wanted it to be our forever home. So, when the opportunity presented itself to open my own dental practice in 2004, it was an easy decision."
Graff said one of the biggest challenges in learning to run his own business is all the necessary paperwork, taxes, reporting, licenses, and "legal mumbo jumbo". He said it is a lot different being the boss and learning to manage staff appropriately.
"Dental school teaches you to do great dentistry but not so much how to run a business," Graff said. "My biggest challenge is balancing the best dentistry possible with the success of the business. Believe it or not, most people don't like going to the dentist, haha, and building trust and respect with my patients is very important to me. Taking the time to do that is not always in line with being a successful businessman."
His practice recently underwent a transformation and rebranding, with the official name change to Gothenburg Dental.
Because of his own experience, Graff has some interesting advice for anyone who may want to pursue a similar path. "I always tell people that are interested in dentistry to get a degree in business, then go to dental school to learn how to be a dentist. That way you have the knowledge and understanding of how to do both. My daughter Jamie has decided to pursue a career as a dentist, and I told her the same thing. She is a very driven and goal-
oriented person so I am excited to see what the future holds for her."
Aside from helping people with dental issues, Graff has found more pleasant ways to get involved in the community. His family attends Our Lady of Good Counsel Catholic Church. "We enjoy our church and church community immensely. I taught confirmation class for four years and enjoyed my time with the students," he said.
He is also a strong advocate for our local theatre. "I believe we are extremely lucky to have the Sun Theater in Gothenburg so my staff, family, and I volunteer and support their improvement endeavors whole heartedly - even performing at the first annual Dancing with the Stars fundraising event. What an opportunity for fun and personal growth," he said.
Graff has been a member of the Gothenburg Noon Rotary for 13 years and is the current president, taking on a second term this year. "Rotary is an amazing organization for both its members and the local, district, and international projects they undertake including their efforts to nearly eradicate Polio for the world. I am extremely proud to be a part of the Rotary organization."
When not working or volunteering, Graff enjoys camping with his family, fishing and golfing. He also enjoys watching movies and listening to music on his home theater and audio system. "One of the unique things I find fascinating is listening to music on high quality headphones. I have gone to several headphone 'conventions' called CanJam," he said. "I know I sound like a nerd, but I have made several amazing friends through these experiences."
Nerd or not, Graff has a huge heart for people - whether it's those he serves through Rotary or volunteer service, or his patients. "I believe in quality over quantity, and treating my patients the way my family, friends, and I would want to be treated. No exception."