More than likely every parent everywhere has heard the words "I'm bored" from their child at least once, and trying to find ways to keep the kids entertained during this pandemic provides an additional challenge. However, when Thayne O'Hare became bored he didn't just complain about it - he found something to do.
It was April, just a few weeks into the closure of school due to Covid-19, and Thayne was "looking for something to do." "I have always loved quail, so I decided to try to hatch some," said the Gothenburg Public Schools fifth grader.
Granted, tackling the project of hatching and raising wild birds is not the kind of project most kids his age would gravitate toward, But Thayne says he has always been fascinated with birds. The idea of hatching quail provided him with the opportunity to do more research on the birds and take his interest in them to a whole new level.
He went online and looked for eggs to purchase. And yes, you really can Google "quail eggs" and find them! He ordered 50 eggs and an incubator, and a few days later Thayne was in the quail hatching business.
"You can't find a quail incubator so we had to use one for chickens. You have to keep the incubator at 37.5 degrees Celsius, and 55 or 60% humidity," he explained. "It takes 20 to 25 days for them to hatch."
After his quail hatched he moved the babies into a tub, where he fed and watered them and monitored the amount of heat they received. "When they first hatched they were only about the size of my thumb," he said as he held his thumb up.
While the quail chicks were growing, Thayne and his dad went to work building a new home for them. They constructed a 3'x3'x9' enclosure made with chicken wire, where the birds remained for the next two months.
A few weeks ago Thayne decided his quail were ready to join their natural habitat, so he found a spot near the canal where he had seen other quail hoping they would be able to join and released them. "I would like to do a project like this again sometime, maybe with quail and maybe something different," Thayne said.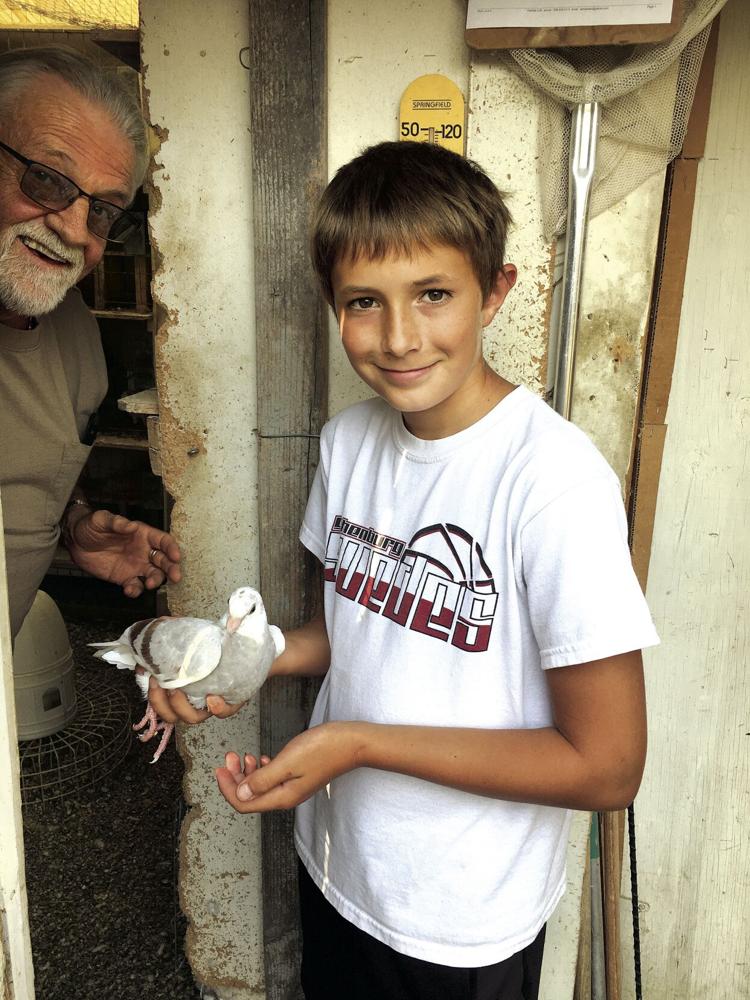 He has a fondness for birds of all kinds which also sparked an interest in pigeons. "Whenever we would drive down by the Co-op he would point out the different pigeons and tell me what they were and all about them," dad Ryan explained. "We had been talking about building a pigeon coop at our house, and just by luck an injured pigeon showed up at the clinic one day. It was banded so we were able to trace it back to the owner, who was a guy in North Platte."
Ryan said he called the bird's owner and after visiting with him the gentleman agreed to let Thayne try to nurse the pigeon back to health. They discovered it was a homing pigeon, and a racer. For the past several weeks Thayne has been dutifully feeding, watering and caring for the pigeon as it recovers from its injury. Though he seriously considered keeping the bird, Thayne has decided it would be best to release it so it can return home.
He has, however, developed an interest in racing pigeons - and the newly formed friendship he has established with the pigeon's owner has proven to be a benefit. "He has offered to help me get started with racing pigeons," said an excited and nervous Thayne.
He admits that had it not been for being home due to the pandemic he may have never had the opportunity to discover these new interests. Thayne has also fallen in love with photography, and prior to the start of school was getting up every morning at sunrise to take pictures of the wildlife around the family farm.
"I just love being outside," he said with a shy smile.