Lathan Johnson, pictured below, is a bubbly, always smiling little boy who will celebrate his 8th birthday in a couple of weeks. February is Lathan's "birthday month" in the Johnson house, so when the idea was fostered to hold a fundraiser - the Starfish Gala - for research of the disease he was born with it only seemed fitting to have it in February.
Chromosome 18 is one of the 23 pairs of chromosomes typically found in each of us, and is estimated to represent about 2.5% of the DNA in our cells. Even just a missing piece of one of those chromosomes can throw the body clear out of whack, and that's what happened to Lathan.
Technically he has Chromosome 18q Deletion Syndrome, meaning a small piece of Chromosome 18 is missing. It is a very rare disease, and as such the diagnosis took awhile.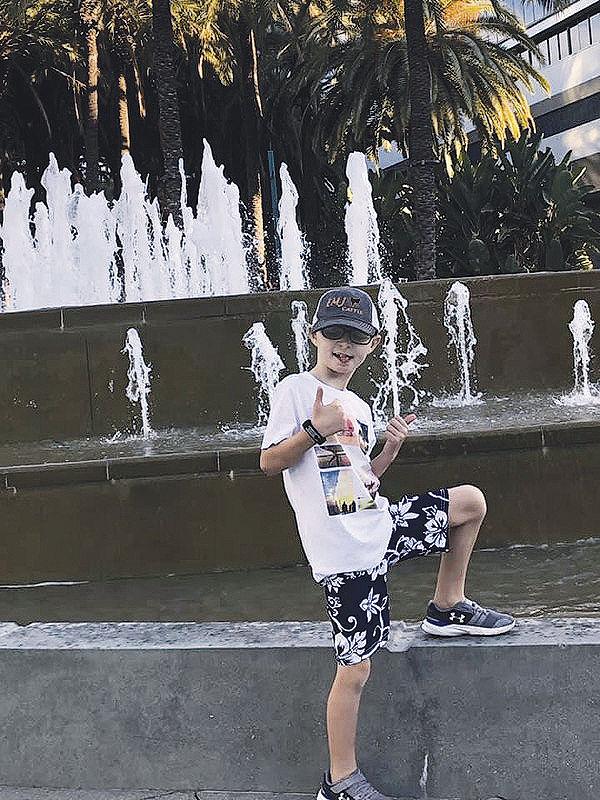 "I just knew something wasn't quite right - something just felt a little off," said Erica Johnson as she reflects back on her pregnancy with Lathan. "The only one I told was my little sister. He was born early, on a Sunday. Within eight hours the doctor had a specialist in our room, and within three weeks we had our first appointment at Boys Town (National Research) Hospital in Omaha."
She said from then on Lathan's life became a series of tests and visits with lots of different doctors, including appointments every three months at the craniofacial clinic. "Each visit and each doctor just kept ruling things out," said Erica.
When he was 10 months old, Lathan suffered his first seizure. It was mild and he was running a slight fever, so Erica attributed it to whatever was causing his temperature. However, for the next nine months he continued experiencing seizures which led to four different hospital stays. When he was 18 months old, his pediatrician sent Lathan to Children's Hospital in Omaha hoping to finally get some answers.
"They performed more tests, again just ruling things out. They finally brought in a geneticist to visit with us and said they wanted to do genetic testing," said Erica. "They told us it would be expensive and that the insurance company would more than likely reject it, but they would keep fighting for us. So we went through with it."
She said in the first round of genetic testing a series of about five different tests were performed, and that was when it was discovered that a piece of his 18th chromosome is missing. "It is so rare that I had trouble even finding information on it," Erica said.
Through her research she found the Chromosome 18 Registry & Research Society. "That was so nice because we could connect with other families. We could also read reports and find information on other kiddos with the same deletion as Lathan."
With a diagnosis finally in hand, and connections to other families dealing with the same disease, a new "normal" kind of life began for the Johnson's.
A SPECIAL BOND
Lexi Johnson was six years old when her little brother was born. She recalls spending lots of time with her grandparents and aunt while her mom and dad were at the hospital and various appointments with Lathan. She also remembers being worried about her brother, and getting to go along on many of those appointments.
"We made the decision early on that we would take Lexi with us to Lathan's doctor appointments. We wanted her to be included," explained dad, Mike Johnson. "The school has always been very understanding about that."
When she was 9-years-old, Lexi found an interest that quickly became a passion - pageants. "I got a letter in the mail asking me to try out," she recalls. "I had to go to Grand Island to interview for a judge to see if I was NAM (National American Miss) eligible."
She was, and competed in her first pageant in Omaha that same year. She has been competing ever since, and in 2019 she was crowned Miss Nebraska Preteen. Lexi said along with her love of pageant competition, she is able to use that stage to raise awareness for diseases like Lathan's.
"I chose the platform 'Go Blue for 18Q' because it is more personal to me," said Lexi. "It's based around educating about and advocating for people with disabilities. My platform has kind of opened people's eyes about these rare diseases and about bullying."
Erica said Lexi has always been protective of her little brother, but she distinctly remembers the incident that became the turning point for her daughter. "We were at Pizza Hut having lunch together as a family and Lexi noticed some other kids being mean to Lathan. It really upset her, and she became a stronger advocate for him. She has become a great big sister," said Erica as she smiled at her daughter.
Inheriting her parents' character for giving to others, Lexi started the Totes for Tots project four years ago. She said her inspiration for the project came from her little brother's hospital stays. "I wanted to help other kids who had to be in the hospital, so I came up with this project to fill small bags with toys and then donate them to hospitals," said Lexi. She said totes are filled and delivered throughout the year, but February is the big push to coincide with Lathan's month.
The family has held various fundraisers throughout the years for the Chromosome 18 Registry & Research Society and other rare diseases. "We generally raised a few hundred dollars, but Lexi began telling us she thought we could do more," said Erica. "She knew someone who hosted a gala for a fundraiser and said, 'We can do that!' She came up with the spark for this gala, because she is so giving."
The Starfish Gala is designed to be a very family friendly event, and will be held Friday, Feb. 14, at the Younes Conference Center in Kearney. Social hour will begin at 5:30 p.m., dinner at 6:30 and a dance will get underway at 7:30. A silent auction will be held from 5:30 to 9:30 p.m. All proceeds from the event will go to the research society.
When not busy competing in pageants and planning events, Lexi enjoys showing cattle. She is involved in both 4-H and FFA, showing cattle raised by the family. "Lathan loves the cattle too, so when Lexi came up with the hashtag '#crownsandcattle' for the pageant, it just seemed to work well for our family," Erica said.
A NETWORK OF SUPPORT
Lexi and Lathan come by their love of cattle naturally - they get it from their dad. Mike works for K Farms of Gothenburg and has his own herd of cattle. He said he is beyond grateful for having employers who offer so much support to him and his family, and give him the freedom to be with Erica and Lathan for doctor appointments, hospital stays and therapy sessions.
"Before he started kindergarten we were taking him to therapy in Lincoln once a week, every Tuesday. My employer allowed me to be gone for most of those appointments," said Mike. "They have been amazingly supportive and flexible."
A native of the Bertrand area, Mike moved with his wife to Gothenburg in 2004 for Erica's job. It is a move he now says he is grateful for. "The biggest positive through all of this has been our community. Everybody knows Lathan," he said.
Mike said Lathan coming into his life has changed him, for the better. "I was one of those guys that would typically ignore a child that was different or has a disability. Now, because of Lathan, I stop and say hi if I see someone like that," Mike explained. "I see people ignore Lathan, and it breaks my heart."
"We just have such a neat family support system, from both sets of parents," Erica added. "My mom and Mike's dad have both helped take Lathan to therapy."
Mike also said their parental concern was not just for their son. "We worried we were spending so much time with Lathan, so it was nice that Lexi had her pageants," he said. Lexi quickly chimed in - "So they bought me four American girl dolls." The family shared a laugh at the comment.
Erica, who serves as the assistant special education director for Educational Service Unit (ESU) 10, can't say enough about the support the family has received from Gothenburg Public Schools. "They really have just wrapped their arms around Lathan, and I think they do that for every child. Everyone at the school knows him and shows love for him. The whole school and community have embraced him," said Erica. "He's easy to love though - he's so friendly and his smile is contagious."
Lathan's prognosis is good, and he is "doing awesome" his mom said. He is now on a yearly rotation with all of his doctors and has not had a hospital stay for a long time. He currently receives all of his therapy and support through the school.
"He has come so far," Erica said. "He is reading, saying more sounds and words. He is running and jumping, and participating in more activities with his peers. And he shows a bucket calf in Clover Kids at the county fair. He loves that.
"He just keeps growing because of everyone around him, not just us," she continued. "It's because of our families, friends, school and community. He's doing so well because of his environment. He has made all of our family better people. He brings so much joy into our lives."