For generations the Sun Theatre has served as a gathering place and source of entertainment for families in Gothenburg and surrounding communities. The Sun Theatre is a community owned non-profit entity and every weekend is entirely staffed by volunteers.
Through private donations and fundraising efforts, several upgrades have been done over the years, including a total renovation to the front half of the building completed just last year which now makes the theatre completely accessible to everyone. Though being closed during the pandemic took a bit of a financial toll on the theatre, it created the perfect opportunity to complete the renovation project.
Now the theatre, with its new look, is back open - and under new management. Following the departure of full-time manager Roxanne Converse-Whiting, the theatre board decided it might be more practical to split the duties into two part-time positions. This would allow individuals with a more specific skill set to better utilize those abilities.
Jessie Hruza and Chris Demoret are now co-managing the Sun. Jessie has lived in Gothenburg with her family for eight years, relocating from North Platte. Her duties at the theatre are centered around the business side of things - event planning, scheduling private parties and activities, and marketing.
"I have never done this before, and I just thought it would be really fun," said Jessie. "I sold insurance for about 17 years before I came to Gothenburg and started working at Charm. I just thought this was something that would be a little different and keep me active."
Chris relocated his family to Gothenburg from Kansas four years ago and shortly after he took ownership of a local plumbing business. He handles the maintenance and upkeep of the building, as well as setting up the movies.
Both began their duties in March, and though the theatre was once again showing movies they were still operating under Covid protocols at that time. Masks were required and shields were in place at the concession counter. At that time the theatre was showing older movies because they were unable to get any new releases. However, they were just happy to once again be open.
Chris admitted that the job was more in-depth than he expected, and Jessie agreed. "I just thought that Roxanne came up here and loaded movies up. I didn't even think about special events, and it's unreal how many special events we have and how many people rent this theatre," said Chris. "Jessie takes care of all of that and that is almost a full-time job for her just taking care of that."
Jessie said along with the movie showings and private parties the theatre is also involved in a number of community activities. "We help the Chamber with the cornhole tournament and beer garden, Power Lunches and Trivia night. And there's a lot more stuff we are planning for the fall," said Jessie.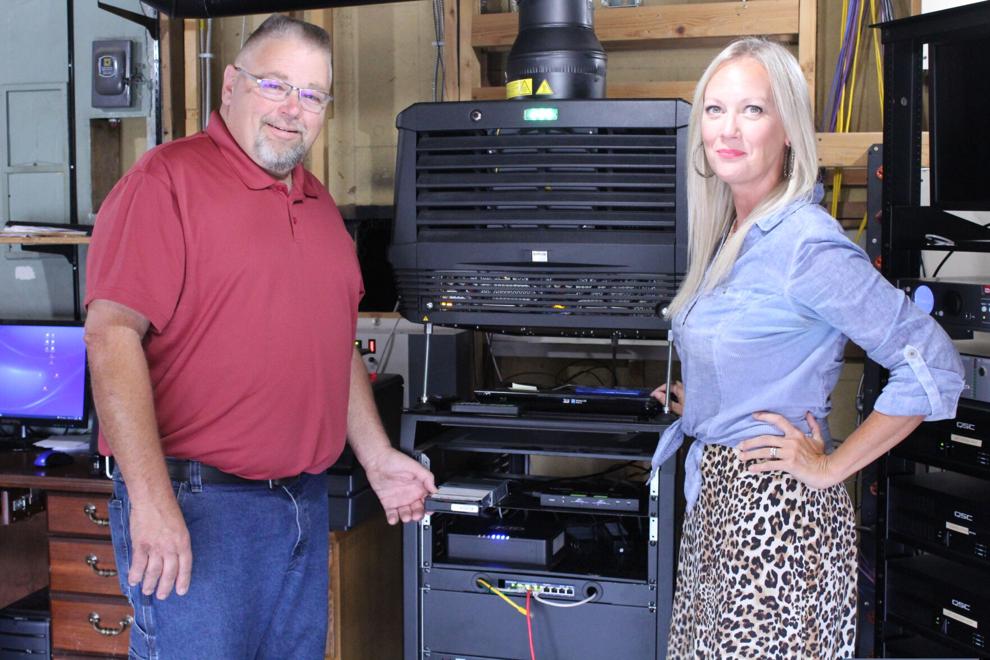 Both Jessie and Chris are amazed at how the community pulls together to keep the theatre going, and said they firmly believe it is the last community-owned theatres in the state and likely one of the few left in the country. "Kudos to our volunteers. There's no way we could do this without them. They do an awesome job, they know what they are doing when they come in, and it is just an awesome deal," said Chris.
"And a lot of the businesses sign up for membership advertising and we give them quite a bit off of that if they volunteer once a month, so that helps too," Jessie added. Local businesses also sponsor movies, which both Chris and Jessie said is a huge benefit.
Jessie said she is enjoying her new job, especially the interaction with the public. "I like being involved with the events and all the people. It's always different and you always see different people," she said.
Chris agreed. "You get to meet a lot of people, it's all customer service. And loading the movies is cool. It's not just pushing a button and it's ready to go - it was a learning process. And it's cool how all that works," he said.
During the pandemic closure of the theatre the board had implemented various ways of staying connected to the community and generating at least a little bit of revenue. Jessie said that some of those ideas were pretty popular and they plan to continue them in the future, including a popcorn drive-thru and the Holiday Tour of Lights.
For the second year the popular Dancing With the Stars event, which is a big fundraiser for the Sun, will not happen this year. However, a fresh new event will take its place.
"We will be having a haunted trail, called the Sod Witch Trail, and is going to be at the Sod House Museum. It will be the weekend of Halloween, on Thursday, Friday, Saturday and Sunday," Jessie explained. "We've been out there and walking through it at night, and it's pretty creepy. The hours are 7:30 - 10 p.m. on Thursday, and on Friday, Saturday and Sunday nights we'll go till midnight."
Other special events include a showing of the history of Genesis this weekend, and plans to show The Chosen series on Sunday evenings with a start date yet to be determined. "We are also thinking about doing a ladies night and showing something like The Bachelorette," Jessie added.
Anyone interested in volunteering or learning more about special events can call the theatre at 537-3235 or visit the website at gothenburgsun.com.