The Swede softball team hosted a triangular August 28 at the Gothenburg 4-Plex and split the day, 1-1 against Southern Valley/Alma and Alliance.
In the first game against Alliance, Gothenburg's Taysia Holbein was locked in at the plate, tallying four hits, including two doubles to lead Swede scorers in the 9-1 victory.
Avery Dunphy was 3-3 in the game and Ally Goad and Chloe Daharsh accounted for two RBIs apiece.
Hannah Devlin was steady in the pitchers' circle for the Swedes. She allowed only one run on six hits over six innings and struck out eight batters.
In the second game of the day, Gothenburg met Southern Valley/Alma.
Both teams struggled at the plate as pitching on each side of the diamond was strong, but Southern Valley edged the Swedes for the 3-1 win.
The lone Gothenburg run of the game came in the fourth inning when Holbein walked, took second on a sacrifice bunt by Goad and advanced to third and took home on an error by the SV first basemen.
Daharsh put in some hard work in the circle for the Swedes, allowing three runs on seven hits and striking out five.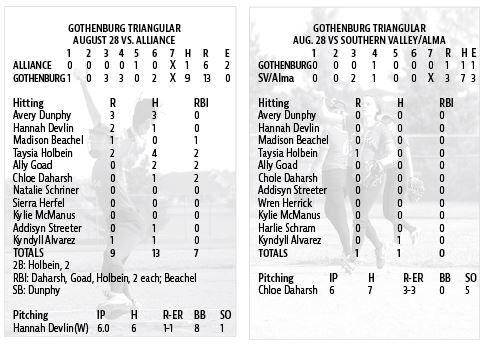 Haymaker pitching too much for Swede hitters
Gothenburg traveled to Cozad Aug. 27 to take on the Haymakers and was met with strong pitching and a solid offensive attack by the home team, losing 10-0 in four innings.
Avery Dunphy led off the game with a drive to the centerfield fence that was caught for the out, and Madison Beachel singled on a fly ball to second base later in the first, but that was the only offense the Swedes could muster.
Hannah Devlin worked for 2.1 innings, allowing 10 runs on eight hits and striking out one.