The Gothenburg Swede football team has had a season that has been full of learning opportunities and when the Sidney Red Raiders came to town Oct. 9, they were ready to put the lessons to the test.
The Swedes offense churned for 441 total yards behind three touchdowns from Abe Mendez to defeat the Red Raiders 36-6.
"The offensive line really started getting some traction," Swedes head coach Craig Haake said. "We were able to sustain some drives and get the ball moved down the field. To be honest, wee kind of moved it at will."
Haake spoke to the steady improvement of the offense and said that it's a great feeling to have both sides of the ball working well.
"We have played better the past few weeks, but the offense has been in neutral," he said. "We put together more than two good drives in the night and did it running and throwing the ball. We'd take 441 yards per week every week."
The Swedes only gave up 206 yards to the Red Raiders, and Haake said that's a testament to the offense finding a way to get things moving.
"Defensively, last few weeks we have been playing well," he said. "We will stop giving up 35 points per game when we start maintaining some drives on offense and we play complementary football. We hang onto the ball longer and get drives and not really even scoring drives, possession time, our defense gets better."
Mendez was a workhorse for the Swedes, picking up 75 yards on the ground and another 24 receiving on two receptions.
Owen Geiken added 86 yards on 11 carries and had a monster night on defense with 16 tackles.
J.J. Smith got in on the scoring action for the Swedes, punching in a touchdown on the ground and Wes Geiken completed five of 10 passes for 92 yards and a touchdown.
The Swedes are looking at the Oct. 16 matchup against Chadron, and as they prepare for a western Nebraska battle, they have a bigger thought in mind: playing for a district title, which Haake says, is in their grasp.
"Four weeks ago these guys didn't have thought of that in their head," he said.  "Now I think they see something in their grasp. They've had their nose down working hard to get better and now they see something, I hope it doesn't spook them."
The Chadron Eagles come into the game against the Swedes with a 5-1 record and Haake said that the game will be a tough one.
"It's a tough place to play," he said. "We've played out there three or four times. We have taken teams out that we thought were going to play well and we did not play well. Those are all different years, though."
The resilience of the Swede football team is something that people are taking notice of and Haake said that they shouldn't be discounted.
"Everyone is going to be bigger than us, we aren't going to outsize anyone," he said. "But I do believe we are getting more physical each week, it's not necessarily the size of the dog, but the size of the fight in the dog."
While Haake said that there haven't been a lot of expectations on the team this season because of their youth, the tables have turned a bit and now the Swedes are eyeing a bigger prize than just a winning season.
"For the past three weeks, we've been able to play the underdog and sneak up on some people," he said.  "Now we are going in there expecting to play for the district championship and we are the ones who are the front-runners in this and that's a different perspective."
But that different perspective, Haake said, is the reason that a season like this is so great.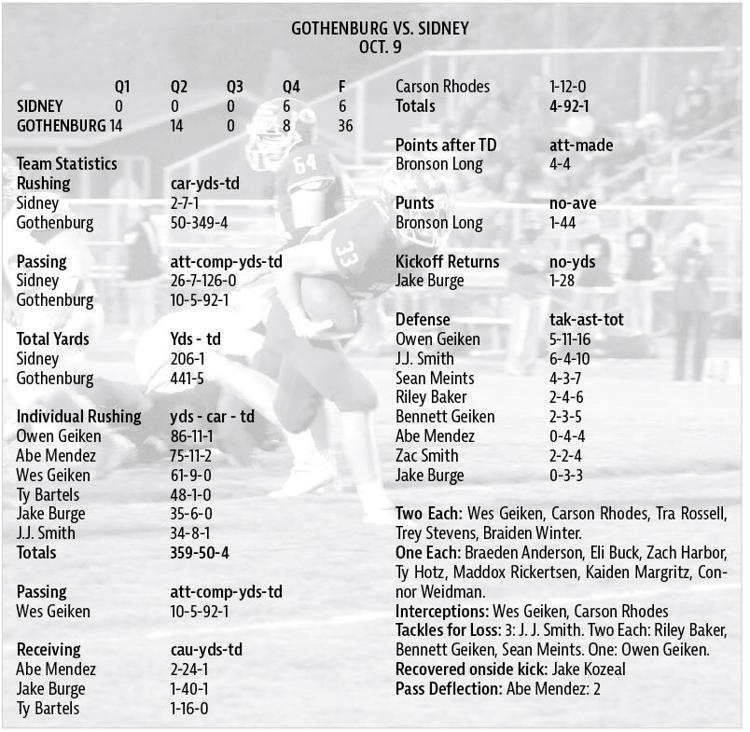 "It's going to be a quick transition for these kids who have been so focused on just getting better," he said. "It will be interesting to see, but that's why it's fun."
The Swedes game against Chadron kicks off at 7 p.m. CST at Chadron High School.