For the second time in two weeks, the Swede football team handed an undefeated team its first loss.
Gothenburg took the long trip Oct. 1 to Mitchell to take on the Tigers, and walked away with a 28-6 win.
"The trip back is better when you're winning," Swede head coach Craig Haake said.
The Swede defense was in full effect, causing two pass breakups, forcing a fumble and tallying two fumble recoveries.
"Our defense does a pretty good job," Haake said. "We caused some of those fumbles just by physical contact. The one pass play they completed, we hit the ball carrier pretty hard, and just jarred the ball loose."
Offensively, the Swedes have found their stride, and Haake said that has been a practice in patience and repetition.
"We are getting better at running the ball," he said. "We don't have an offensive line that weighs 200 pounds like some of the teams we see. We have to loosen people up with the pass. Our guys just keep working and in the third and fourth quarter, those run plays start paying off."
Haake said he's proud of how hard his club is working as they chip away at a schedule that doesn't give a lot of breathing room.
"Each day, each week, the guys just keep working hard and we keep getting better," he said.
Abe Mendez was the leading rusher for the Swedes, picking up 43 yards on 10 carries.
J.J. Smith was in on the action, as well, carrying the ball seven times for 42 yards.
Jake Burge carried the ball twice for 22 yards and two touchdowns.
Wes Geiken passed for 109 yards, completing 7 of 9 passes, one for a touchdown to Owen Gieken, who had 65 receiving yards on two receptions.
Defensively, the Swedes were led by Owen Geiken who had 15 tackles and two pass breakups.
Sean Meints and Mendez each had 10 tackles, Mendez with a fumble recovery.
The Swedes are back to work preparing for the Oct. 9 game against Sidney at home, and Haake feels the game will be an evenly-matched contest.
"They're coming off a big win this past Friday, but we will be ready," he said. "They run an even front on defense. We are going to get after them. Defensively, we feel like we will match up well, offensively we will keep improving."
Kickoff for the game against the Red Raiders is scheduled for 7 p.m. at Gothenburg High School.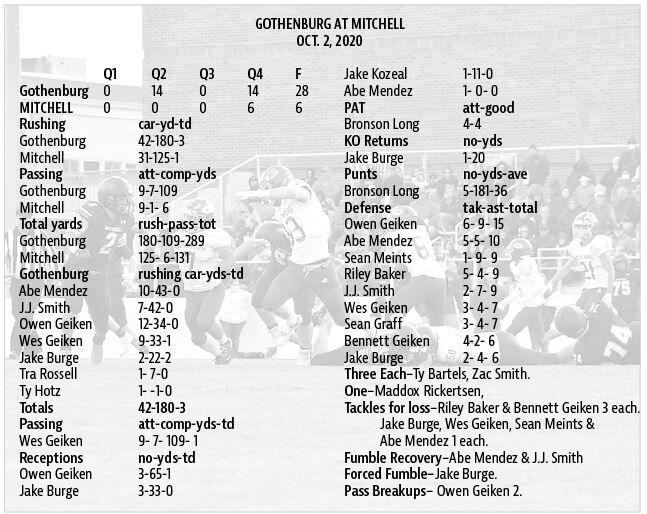 Please be aware that anyone who chooses to attend the game is expected to wear a face mask that covers the nose and mouth at all times while in attendance and maintain at least 6 feet of space between those who are not members of your household.