Before a wrestler hits the mat, the preparation is 95% physical and 5% mental.
Once the whistle of competition blows, though, that percentage switches to 95% mental and 5% physical.
The message to the Gothenburg Swede wrestling team going into the Southwest Conference Tournament was one of maintaining mental control of the match.
"We just had to make sure that we took care of what we are good at and prepare ourselves to wrestle the kind of matches the way we want to wrestle them," coach Tim Negley said. "We just made sure that we didn't overlook anyone and we didn't get scared of anybody because of the record and just wrestle to the best of our abilities."
The Swedes did just that.
Eight grapplers brought home a medal from the meet, the highest being Abe Mendez who placed second in the 132 pound weight class.
Negley said that getting to the podium at a meet like SWC sets the wrestlers up for the upcoming district meet, giving them a boost of confidence that is unmatched.
"Geting a medal this time of the year at the conference tournament is kind of huge," he said. "The fact that some of them were able to get on the medal stand will help them wrestle better this coming week at districts."
The Swedes will travel to Scottsbluff Feb. 14-15 for the District B-4 wrestling tournament at Western Nebraska Community College.
They will see teams from Chadron, Gering, Holdrege, Alliance, Cozad, Lexington, McCook, Ogallala, Sidney, Minden and Scottsbluff.
Going into a two-day tournament is an exercise in staying focused, Negley said.
"We just have to take care of one match at a time because if we don't do that we will end up overlooking somebody and lose a match that we probably shouldn't," he said.
The outlook for the upcoming meet is one of measured optimism.
"We have somewhere around six or seven guys that will be right on the bubble and if they wrestle well, they'll be wrestling next week at state," Negley said.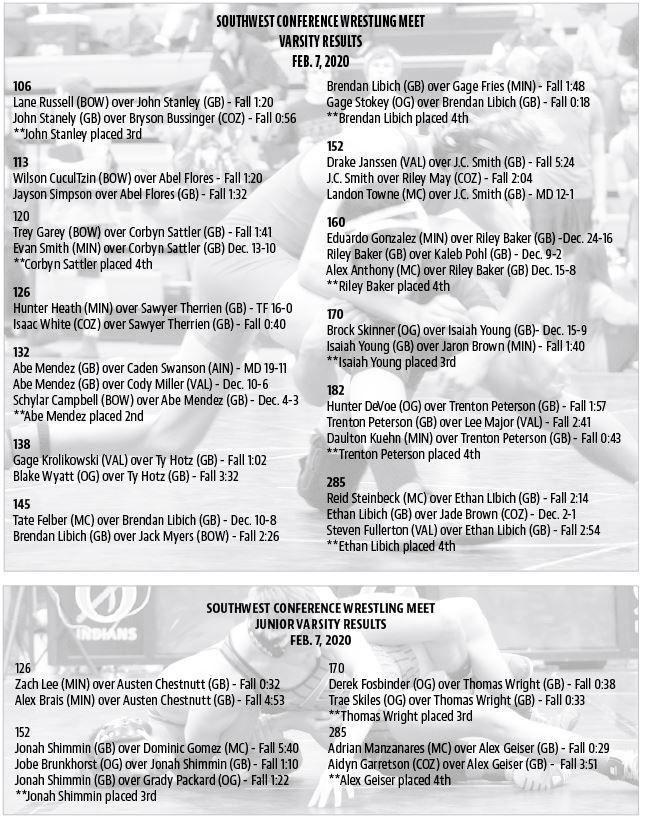 Matches on Feb. 14 begin at 3 p.m. and the second day of wrestling action will kick off at 9:30 a.m. Start times are MST.